If I had to pick only one toy for my kids, I really think it would be play silks. That doesn't exclude books, of course. You see books don't really classify as toys. It goes without being said that we obviously need lots and lots of books.
For literally years I wanted to buy play silks, but I was put off by the price. Seriously, at $10.00 a piece that really adds up. I won't argue that I may be too dollar conscience at times. But, what if my boys wouldn't think they were as awesome as I did. Then one day not too many weeks before Christmas, I was struck with a sudden and unusual stroke of genius. Surely, somewhere I might purchase these silks in plain white and dye them myself for a fraction of the cost. So trusty Google lent a hand and I found the
perfect place to purchase the silks
and the
dye
, as well. When my lovely package arrived it was stowed under the bed until one night after everyone was tucked into bed and fast asleep and Mr. Man was at his martial arts lessons. Then out came my big pot and wooden spoon and I began to dye these lovely 22x22 squares of fluttering softness into vivid colors of red, orange, gold, blue, purple, brown, and sage. I strung a line through the dining room and hung them to dry. It wouldn't have been hard to imagine myself as a gypsy just then. Months have passed and the silk are showing signs of much love and hours of play. I wish I had pictures of a girl playing with them. I am sure there are many wonderful feminine uses for these creative play things. Here are some masculine uses.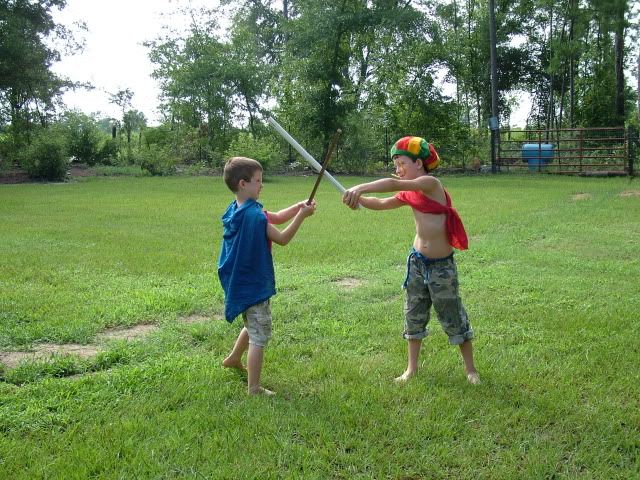 Enjoy! Maybe you will be inspired to dye some lovely play silks for the littles in your life.
*Note: The basic dye colors of red, yellow, and blue, are all you really need. You might want black & brown, maybe. I found that I had a good deal of fun mixing my own colors and sampling their shades by dipping 1/4 cup out of the pot and into a small glass cup. The dyes are very vivid and I have plenty of leftover dye for many more scarves.